Campaigns & Activation
Jumia is celebrating 5 years of customer appreciation
As Jumia turns 5, they are celebrating customers because #YouMakeUsJumia.
Jumia is 5 and the Anniversary celebrations are well underway! Trending right now, are the exciting gift vouchers flurry of vouchers that are coming out of the online wheel of fortune.
For a campaign it is celebrating across all its presence in Africa, Jumia is posied to put smiles on customers faces.

Now as a group, the pioneering eCommerce giant has curated great deals across all its acquired sister companies – Jumia Food, Jumia Gift, Jumia Travel & Jumia Market to create a more engaging experience during the period of its sales. Customers who have a wish list for market items, great food, exciting travel or gifts can spin the wheel to get 30,000 worth of super sales, flash sales, games and some quick treats that end at midnight.
If you are one of the numerous Nigerian Customers who want to take advantage of huge savings during this period can bookmark the Party Calendar so as not to miss anything

At the stroke of midnight on the 26th of June, the Jumia Secret Party begins. Visit our social media platforms and subscribe to our newsletters to get your password and gain entrance into our secret party.
One of the most impressive part of the celebration is recognizing individuals who were part of their growing development stories – partners, vendors and former colleagues who have gone ahead to become a better person following their experiences they have gathered as a staff.
Meet @dinkyfadz she remembers days of endlessly trying to balance accounts and nights spent at the office https://t.co/UrB3LFVVLd #JumiaIs5 pic.twitter.com/1lnFvjzd26

— Jumia Nigeria (@JumiaNigeria) June 19, 2017
Meet Gloria, she thanks Jumia for giving women the platform the earn money for themselves! https://t.co/ukjDmOU82V #YouMakeUsJumia pic.twitter.com/27xg18p5U5

— Jumia Nigeria (@JumiaNigeria) June 20, 2017
Meet Evans Akanno who credits Jumia for imbibing in him the importance of having fun even while working! https://t.co/FXM301UiEk #JumiaIs5 pic.twitter.com/tOR6ASa9Tc

— Jumia Nigeria (@JumiaNigeria) June 21, 2017

In an exhaustive amount of surprises and properly planned out activities, vouchers are also on deck to be redeemed as a means of rewarding certain level of purchase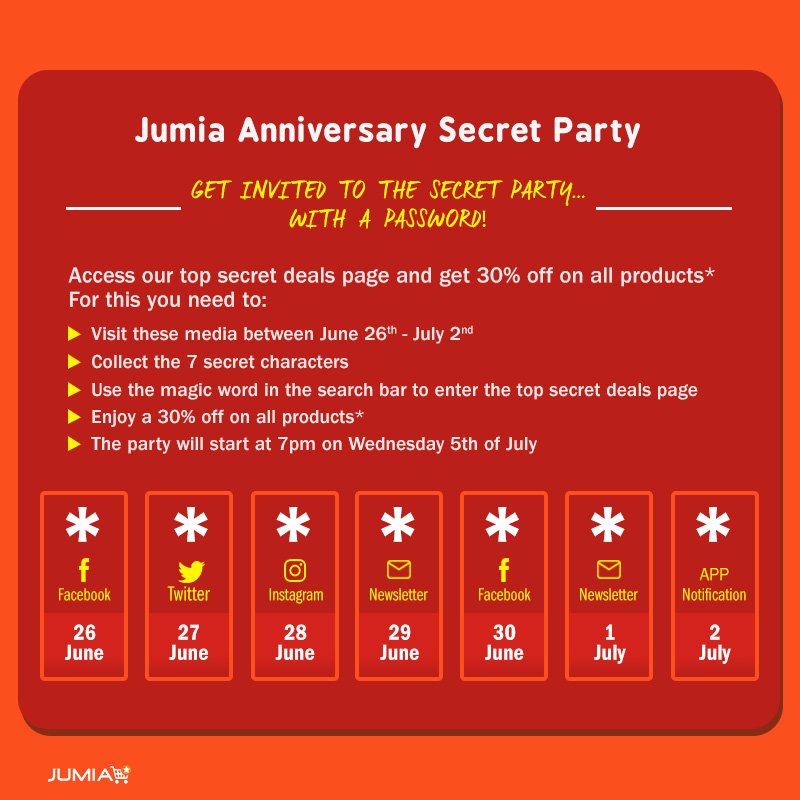 Visit the wheel of fortune, irresistable vouchers Or the Anniversay Sale page , and let them spoil you!